Farmland Preservation
The 2017 Census of Agriculture will be sent out by the USDA in December for farmers to complete. Producers can mail in their completed form or respond
online via the improved web questionnaire. The updated online questionnaire can be used on any device and can be saved and revisited as the producer's schedule allows. The census of agriculture is conducted once every five years. It is the only source of uniform, comprehensive, and impartial agriculture data for every state and county in the country. Farmers and ranchers, trade associations, government, extension educators, researchers, and many others rely on the census of agriculture data when making decisions that shape American agriculture—from creating and funding farm programs to boosting services for communities and the industry. The census of agriculture is a producer's voice, future, and opportunity.
As of today, less than 1% of the US population farms, nearly 20% of the food we
eat is imported from other countries. The world population is expected to reach 10 billion people in 2050. We will need to feed all these people on the same amount or less land than we do today. Food security is just one of many reasons that farmland preservation is essential. Rowan County is blessed with a vibrant, productive agricultural economy. Cash receipts from marketing including crops, livestock, and government payments were over $74 million in 2015. We have over 1,000 farms in our county. In 1990, Rowan County was the first county in North Carolina to adopt an ordinance to help protect farms with the creation of the Voluntary Agriculture Districts. We have 200 farms and over 11,000 acres enrolled in this program.
The Voluntary Agriculture Districts is a voluntary program for eligible farms in Rowan County. Benefits of being in a VAD include recognition and public education about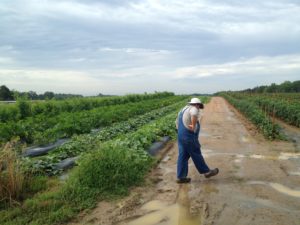 agriculture including signage; increased protection from nuisance suits including noise, odor, dust, or slow moving farm vehicles; waiver of water and sewer assessments; public hearings held by the Agricultural Advisory board are required for proposed land condemnation; and increased eligibility for funding. To be eligible to enroll in the Voluntary Agriculture District you need to own farm or forestland that qualifies for the Present Use Value Program. The land must be a minimum of five acres or horticultural production, 10 acres of agriculture or 20
acres of forestland that is managed for timber production. Also, the land must be managed with the Natural Resource Conservation Service defined erosion control practices that are utilized to treat the highly erodible land. A voluntary Agricultural District member will be subject to a non-binding conservation agreement between Rowan County and the landowner that prohibits non-farm use or development of such land for at least ten years, except for the creation of no more than three lots that meet the applicable county zoning and subdivision regulations. You may revoke the agreement any time with a 30 day written notice to the Agricultural Advisory Board. This program is entirely voluntary and a win-win for anyone who wants to keep their land in agriculture. The Rowan County Agricultural Advisory Board is made up of five appointed board members by the Rowan County Board of Commissioners. If you would like more information about the Voluntary Agricultural Districts, please call the Extension Office at 704-216-8970.
There is a fund raiser November 4 at the Country Life Museum in Sloan Park. This museum helps to preserve Rowan County's farming heritage. There will be a yard sale inside the museum beginning at 6:30 a.m., a live auction from 10:00 a.m.-Noon, and live bluegrass and gospel music from 12:00 p.m.-2:00 p.m. There will be chicken and dumpling plates for $8 with carry out available. All proceeds will go to aid in the completion of the Country Life Museum which will showcase Rowan County's agricultural roots. For more information about the Country Life Museum contact the Carolina Antique Power Association at carolinaantiquepa@gmail.com.
Was the information on this page helpful?
This page can also be accessed from:
go.ncsu.edu/readext?492774