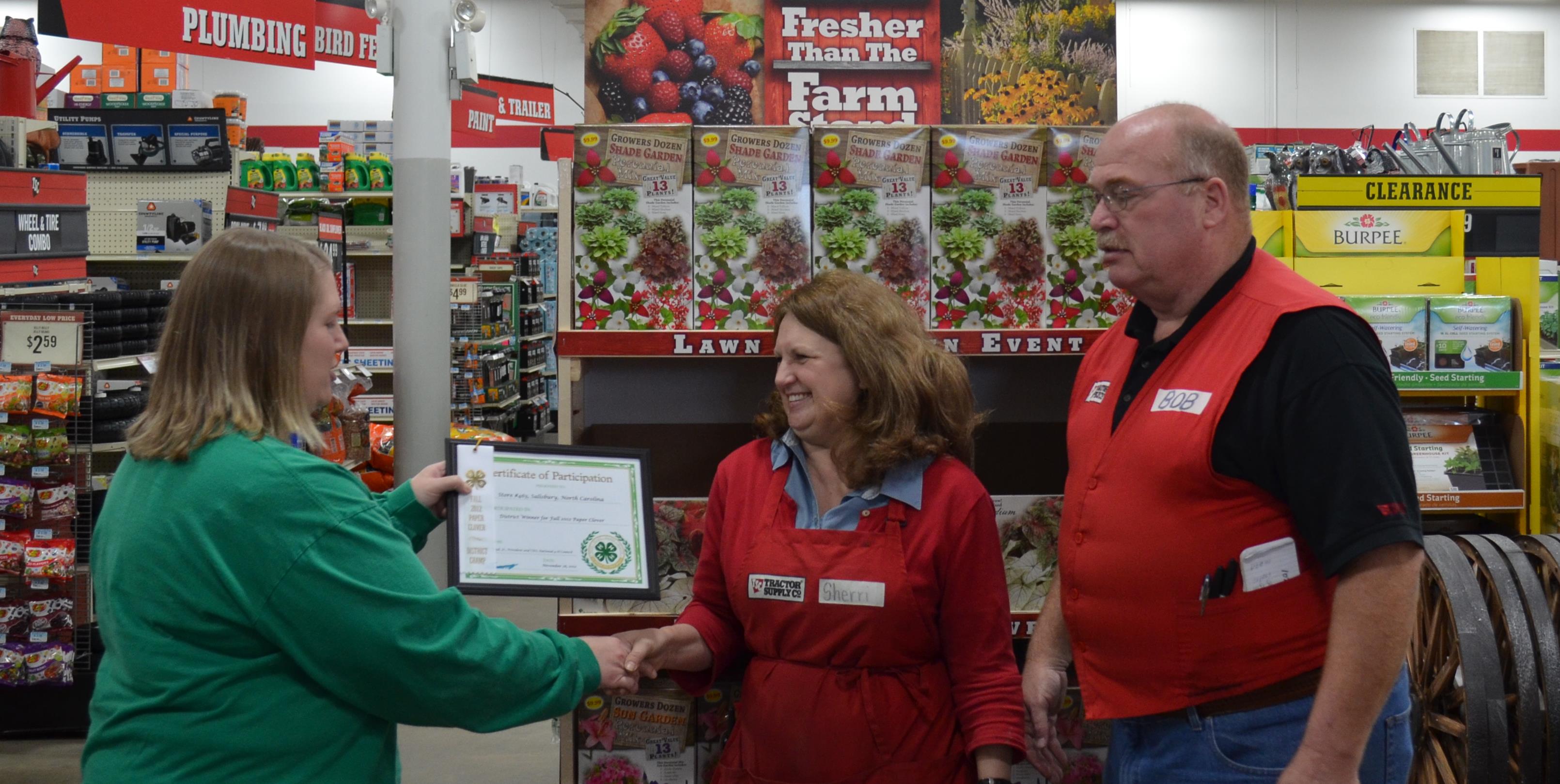 4-H Extension Agent Sara Drake awarding the District Champion Award to the Salisbury Tractor Supply Company Store for their efforts in the 4-H Paper Clover Promotion.  Accepting the award are Assistant Manager Sherri Schulze and Store Manager Bob Snook.
National 4-H Council has partnered with Tractor Supply Company (TSC) for the past three years in the 4-H Paper Clover Campaign.  This fundraiser allows customers to purchase a paper clover at the register with their transaction.  Funds raised support national, state, and local 4-H programming in each community where a TSC or Del's Farm and Feed Supply Store is located.
During the fall 4-H Paper Clover Promotion, the Salisbury Tractor Supply Company Store, was one of four stores in the state to receive a District Champion Award.  This award serves to recognize the stores with the highest transaction percentage in its district for Paper Clover donations.
"Through this highly impactful community event, we have been able to raise funds nationally over the past few years for thousands of 4-H youth across the country," said Donald T. Floyd Jr., president and CEO of National 4-H Council.  "We are more than pleased with the success of the 4-H Paper Clover Campaign, and we are even more honored to continue the tremendous partnership that drives support for 4-H clubs and programs in the communities of more than 1,000 Tractor Supply Company and Del's Feed and Farm Supply stores."
In just three years, across 45 states, the TSC 4-H Paper Clover Campaign has provided more than $2 million to 4-H across the country.  All proceeds raised directly benefit 4-H, with 20 percent of funds being returned to state and 50 percent of funds being returned to local 4-H programs.
The spring 4-H Paper Clover Promotion is scheduled for May 8 through May 19.  Customers will have the option to purchase paper clovers for $1, $5, or more at the checkout.  New this year is a Purina coupon that will be attached to each Paper Clover.
Tractor Supply Company operates more than 1,150 stores in 45 states.  Tractor Supply Company stores are focused on supplying the lifestyle needs of recreational farmers and ranchers. The company also serves the maintenance needs of those who enjoy the rural lifestyle, as well as tradesmen and small businesses. The company offers a comprehensive selection of merchandise for the health, care, growth and containment of horses, livestock, and pets including select Purina and Nutrena brand feeds; a broad selection of agricultural products; and tools and hardware selected for their customers' needs. In addition, the company sells light truck equipment, work clothing for the entire family, and an extensive line of seasonal products including lawn and garden power equipment products.
4-H is a community of six million young people across America learning leadership, citizenship, and life skills. National 4-H Council is the private sector, non-profit partner of 4-H National Headquarters located at the National Institute for Food and Agriculture (NIFA) within USDA. The 4-H programs are implemented by the 111 land grant universities and the Cooperative Extension System through their 3,100 local Extension offices across the country. For more information about the Rowan County 4-H program, contact Sara Drake at sara_drake@ncsu.edu or at 704-216-8970.